Art Retreat. Landscape Painting Workshops in Virginia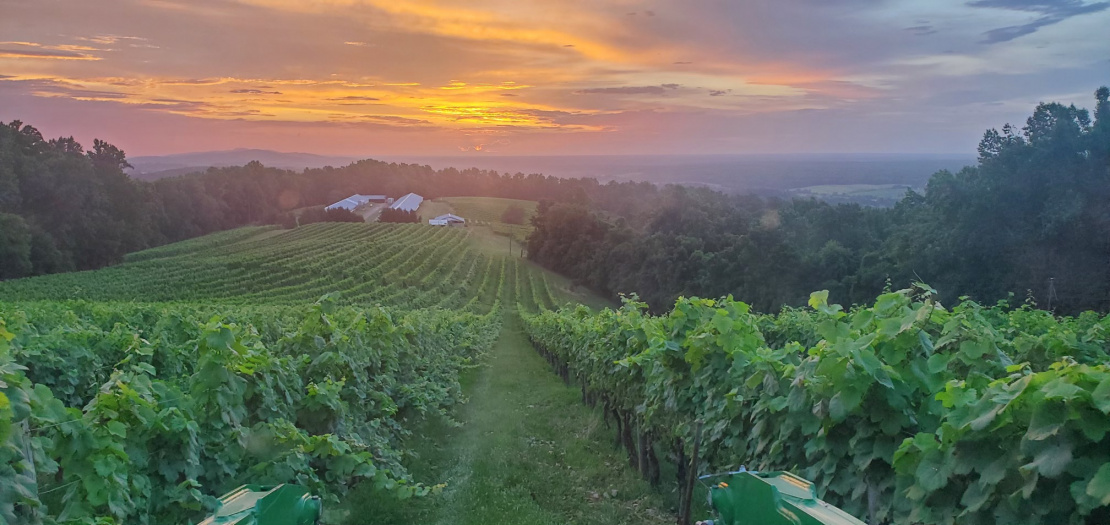 Honah Lee Winery
is one of our favorite painting spots. Photo credit Honah Lee Winery.
Virginia art retreats take place in Orange County, VA with Bridgeview founders, acclaimed artists John Murray and Lena Murray. Orange County is located in Central Virginia and is probably the most beautiful spot for painters in America with its gentle rolling hills, views of the Blue Ridge Mountains, abundant vineyards, thoroughbred horse farms and architectural gems of pre-Civil War era. Also many consider it the birthplace of America since 4 of the first 6 presidents come from this area. Orange is the home to James Madison's estate Montpelier where the American Constitution was written.

Dates: 2022. More will be added.
May 13-15. (Instruction included but not room and board).
June 25 - 30. (Everything included)
Possible other weekend only dates mid June or mid-July. Let us know if interested.
The program will include PAINTING THE MAGNIFICENT LANDSCAPE in the Blue Ridge Mountains (Shenandoah National Park), Orchards at Grelen, one of our spectacular vineyards, Thomas Jefferson's Monticello and James Madison's Montpelier. Under our supervision students will learn plein air painting or painting on location. Students may choose any medium they like, pastels, acrylics, oils or watercolors. Time permitting, we will have a final show at the historic Orange Train Station to show and possibly sell your work! Your teachers are John and Lena Murray, the founders of the Bridgeview School of Fine Arts who, while running the school remotely since 2001, live, work and exhibit in Orange County, VA.
Special Note! This Art Camp/Retreat is for adults and kids. Minimum age is 7. No unaccompanied minors are allowed. Each party/family has to have a car to get from one point to another. However, the longest distance may be just 30 minutes of scenic country driving, since all points of touring/painting are very close to each other. Usually we have 2 painting sessions, a morning and afternoon. Non-painters (husbands/wives/parents/grandparents/siblings) pay the same fee because they are part of the group, and while they may not choose to paint, they do lots of touring/hiking/wine tasting which we arrange for all. We promise you, nobody will be bored! There are more things to explore here than you can imagine. One and only complaint from prior participants was that there was not enough time to see and paint all of it.
High end accommodations at historic mansions and dinners are included in the package. And if you live in the area you only pay for the tours and classes. Please contact us for pricing because it varies depending on the size of your party and how many nights (3 to 5) you choose to stay.
Photos below from prior Art Camps of Spring and Summer 2021.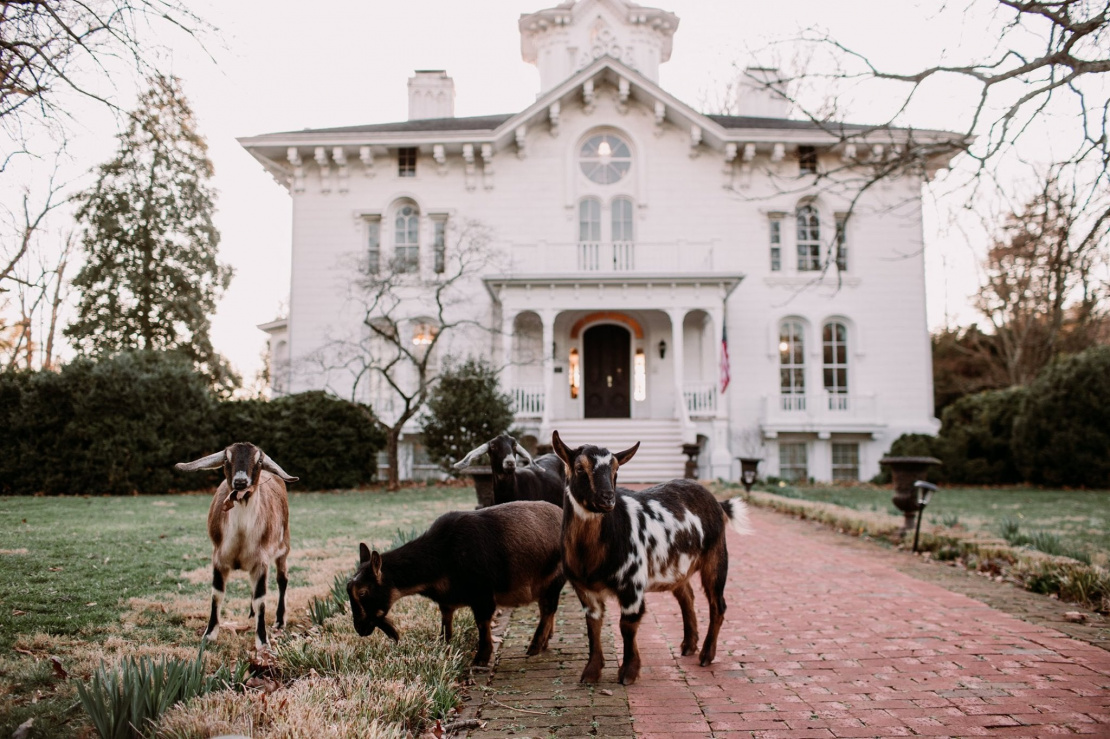 Mayhurst Estate usually hosts our guests. This is where it all happens, art and new friendships. Photo courtesy of Mayhurst.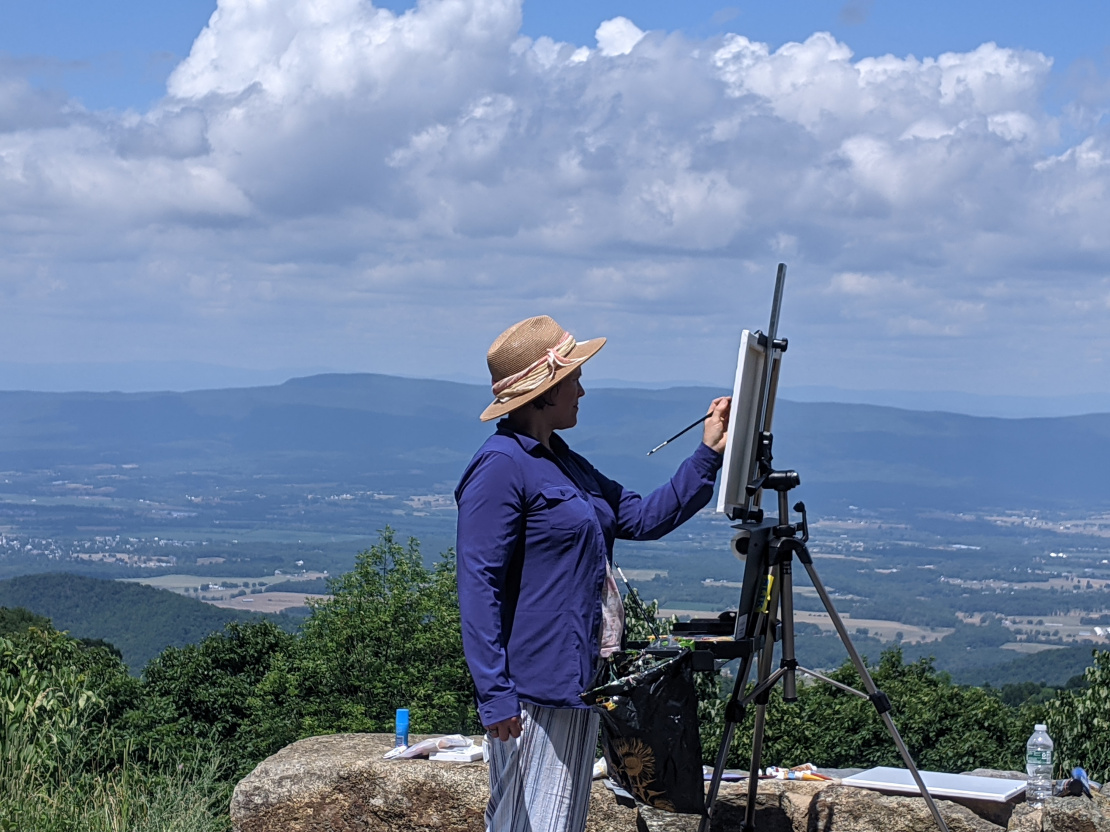 Gabi Armstrong from Portland Oregon is painting the Blue Ridge Mountains at the Shenandoah National Park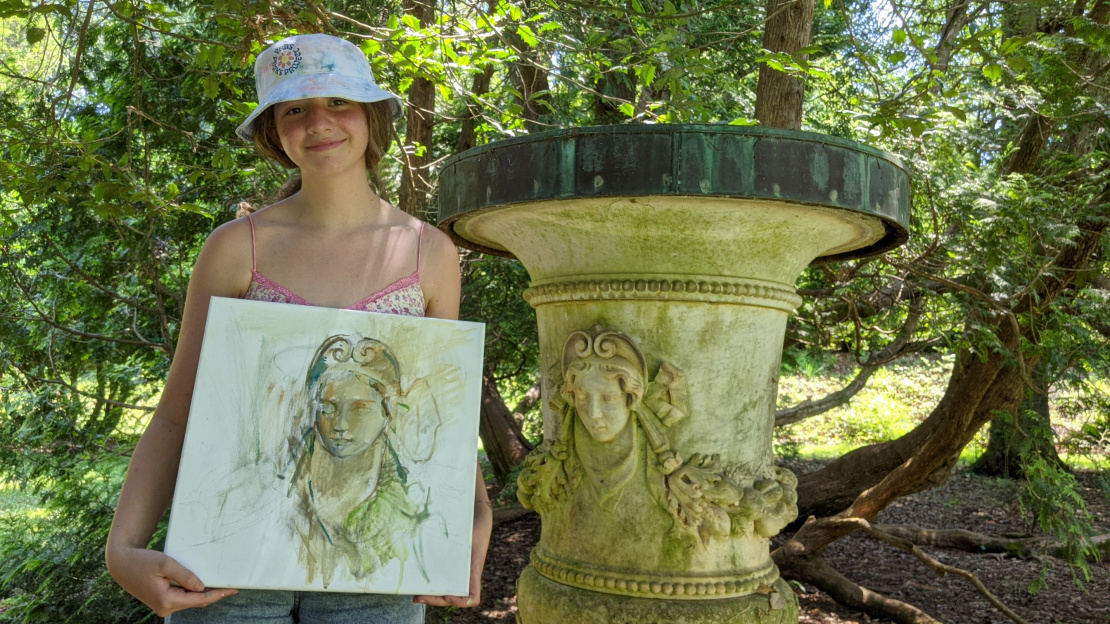 Bridgeview student Sophia Petrides with her painting at James Madison's Estate. The painting was sold at the final Art Show and is now in the collection of
the owners of the historic Mayhurst Estate in Orange.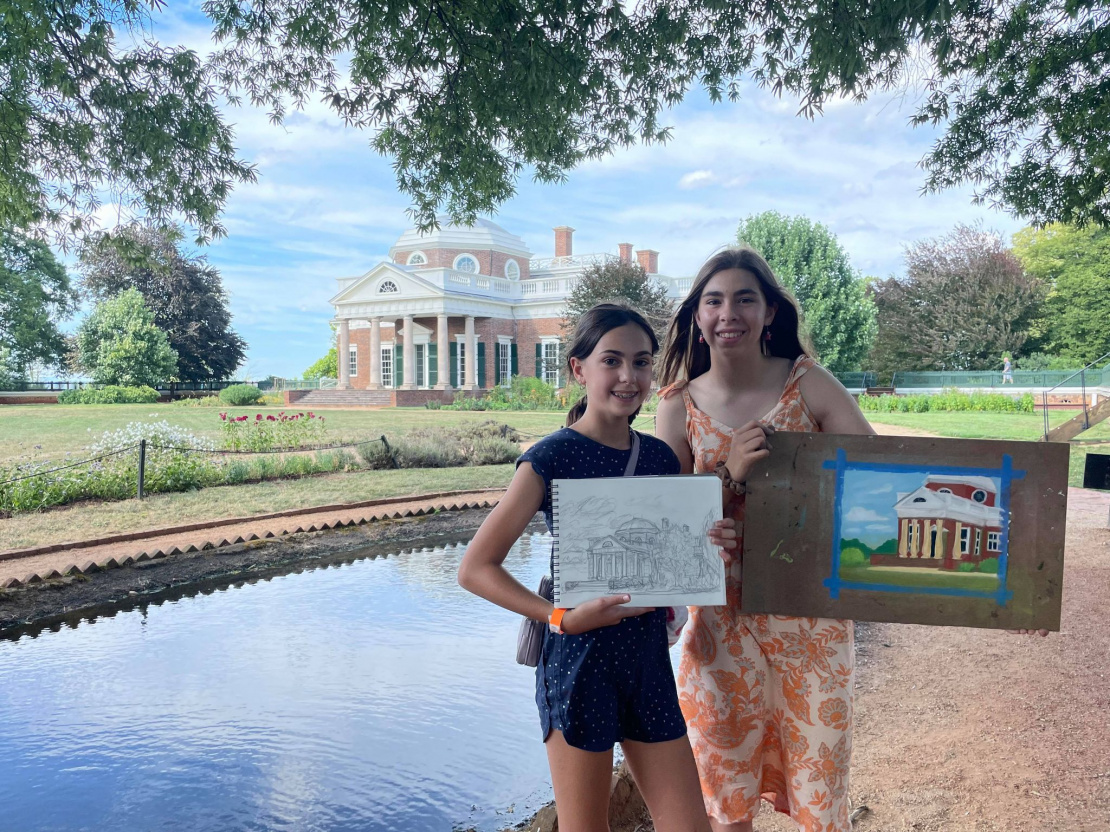 Bridgeview student Antonia Pribanic and her younger sister with their art done at the Thomas Jefferson's home in Monticello.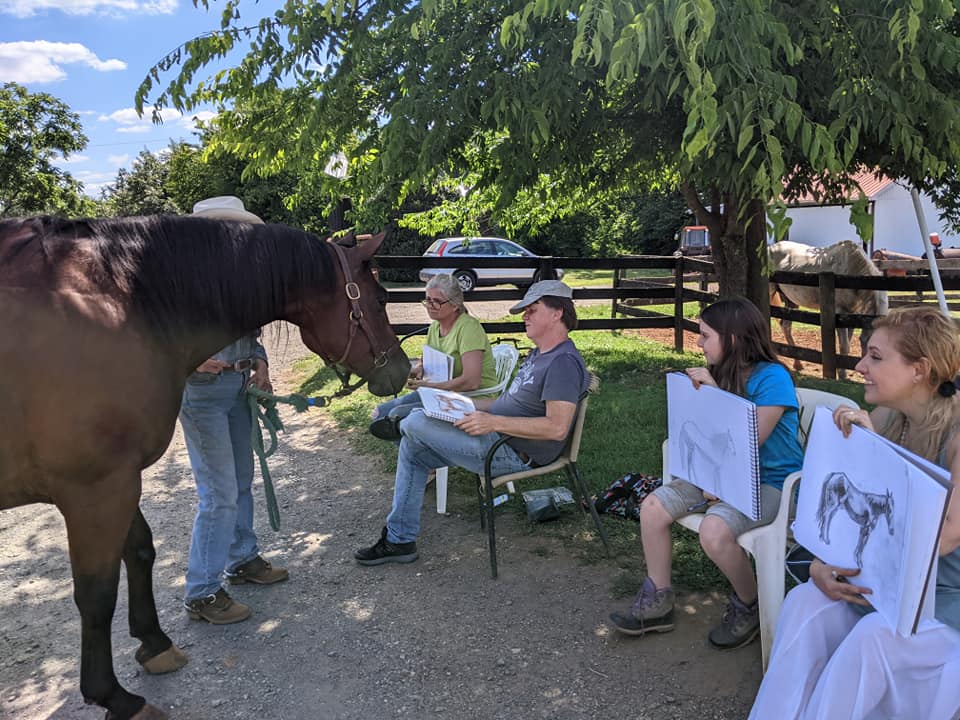 Art campers sketching horses at the Oakland Heights farm.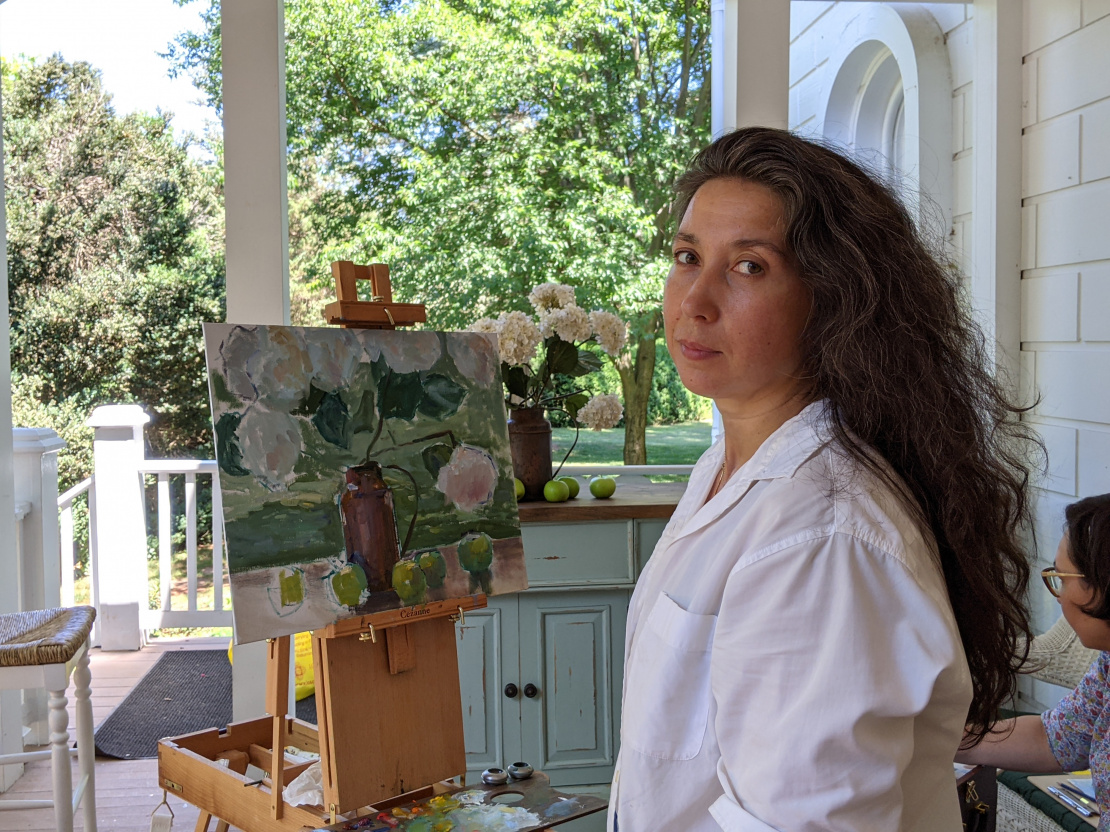 Bridgeview student Elena Rykoff painting a still life at the Mayhurst Estate, a historic bed and breakfast which is also the group's home during the visit.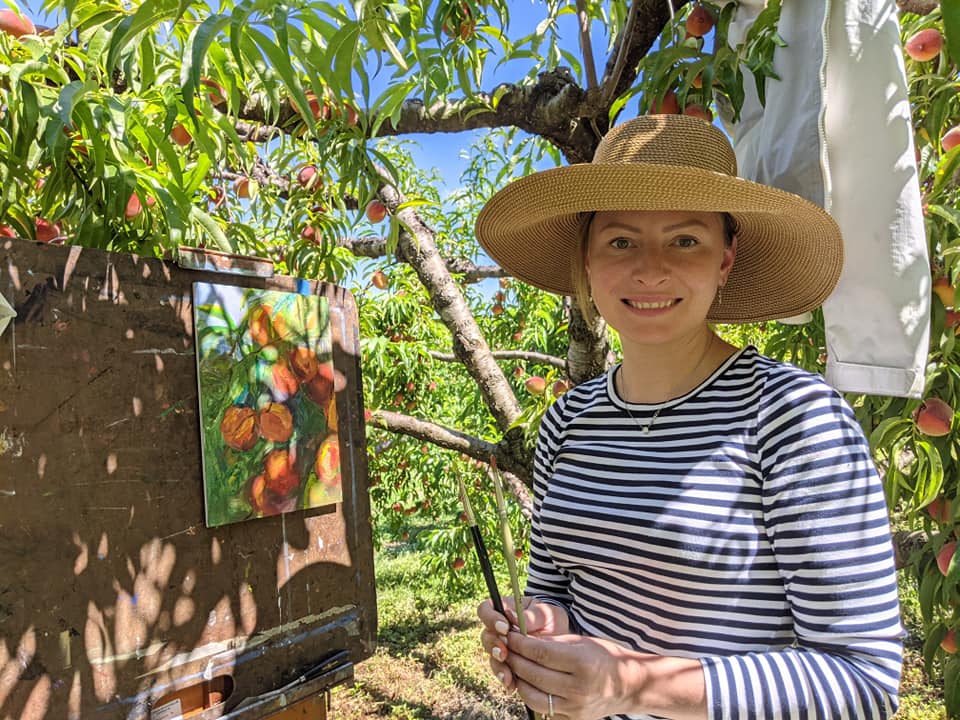 Alena Dixon from Oklahoma is painting peaches at the Grelen Orchards.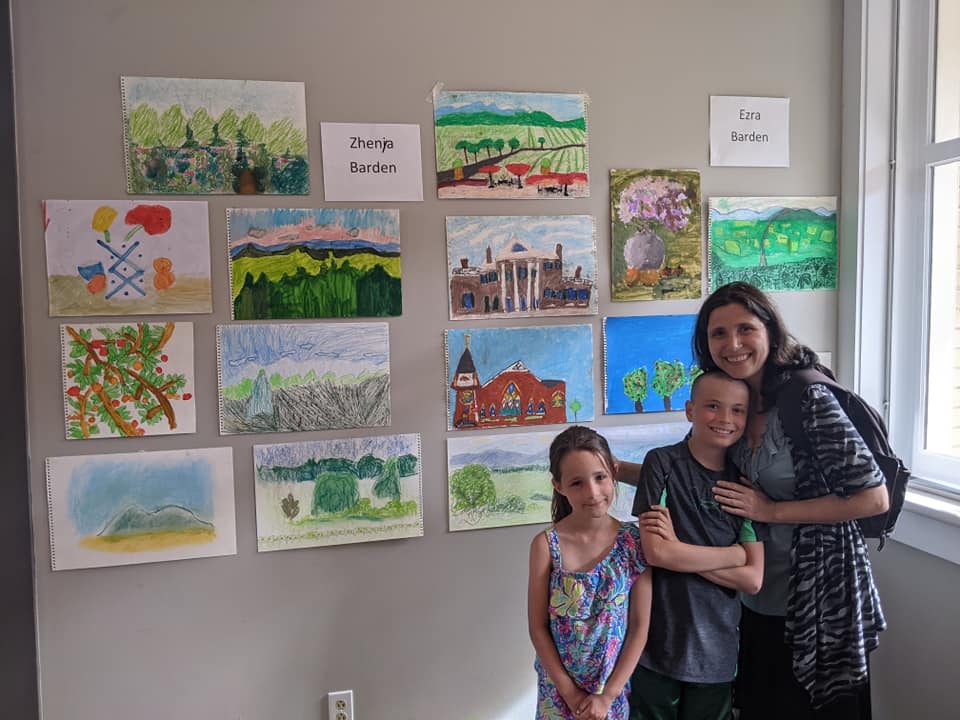 Mom and kids from Washington DC display their work at the historic train station in Orange during the final show open to the public.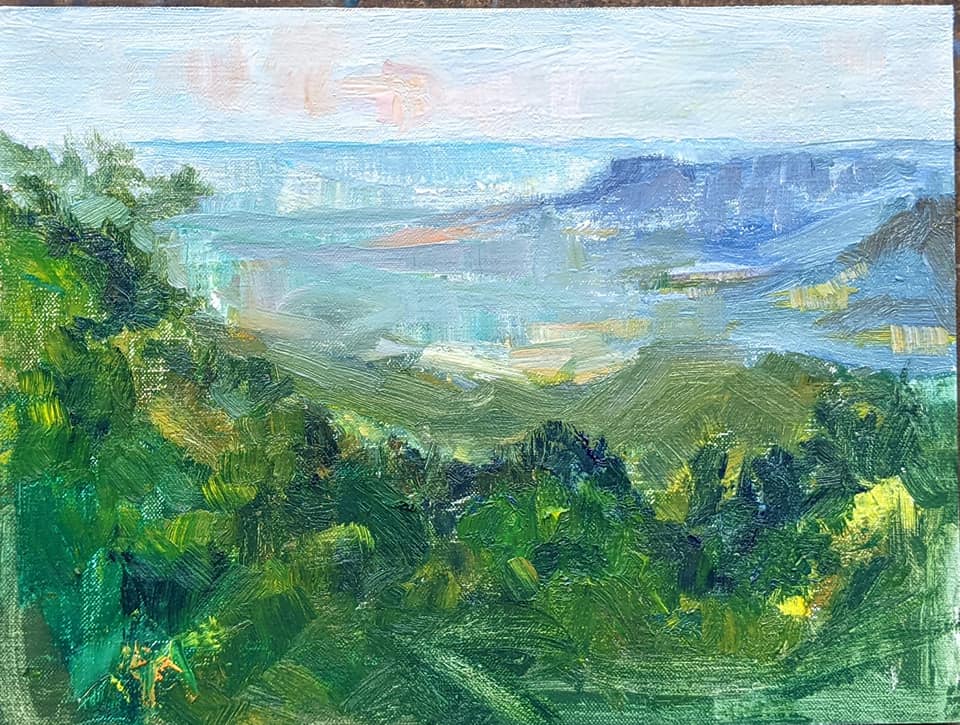 Blue Ridge Mountains by Alena Dixon from Oklahoma

Grownups, painters and some non-painters (parents, husbands) enjoying the best wine in Virginia at the historic Barboursville winery, a former plantation
with a home designed by Thomas Jefferson.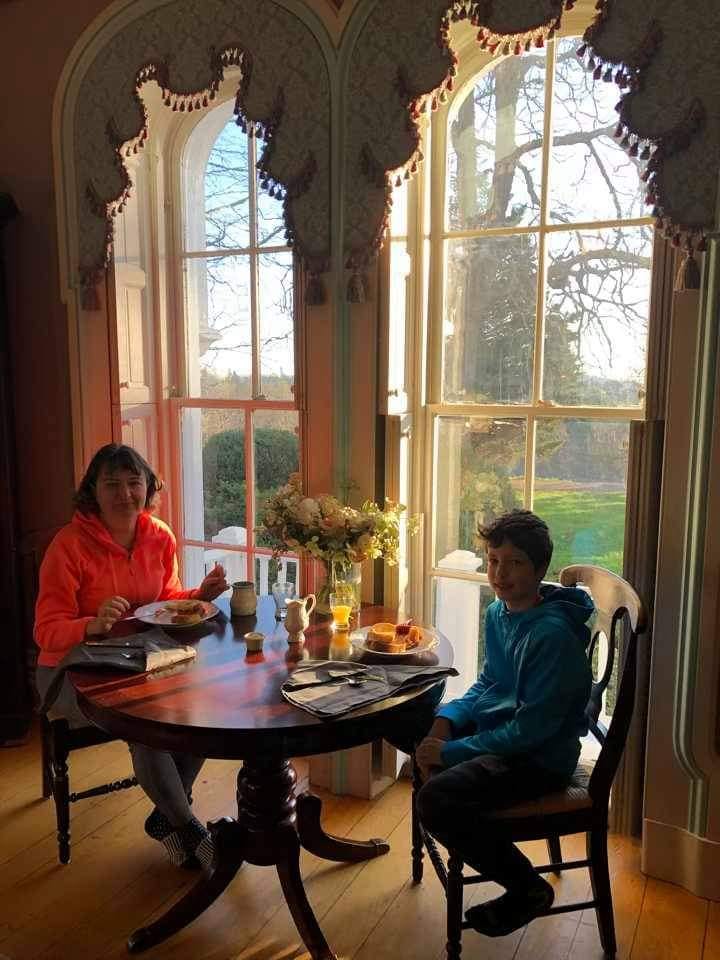 Zina and 10 year old son Alex enjoying a sumptuous farm to table breakfast at the Mayhurst B&B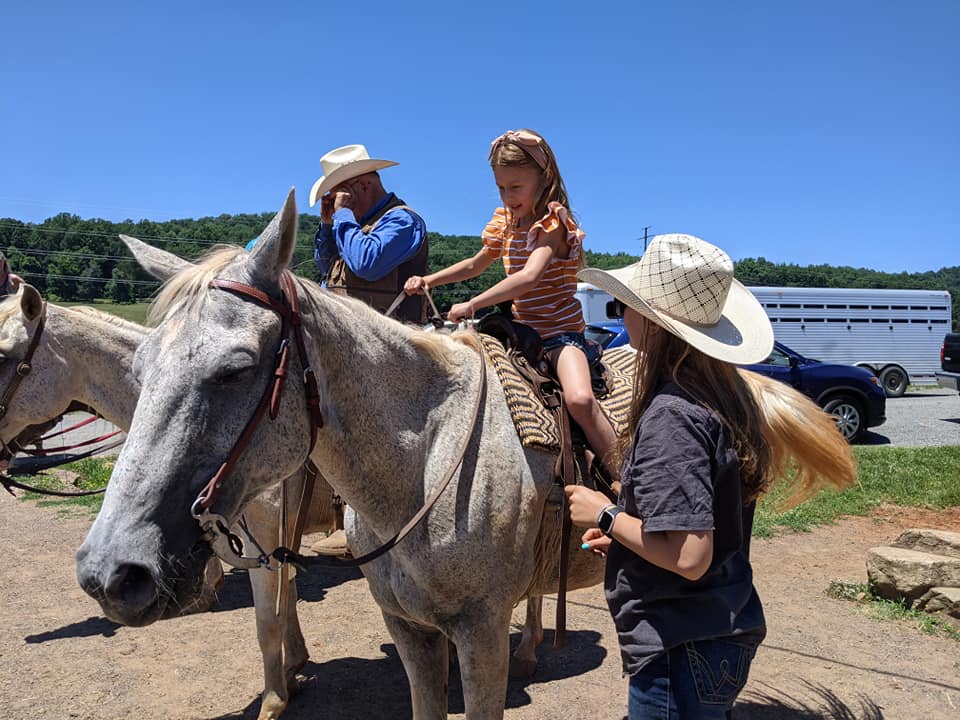 First time on a horse for this 7 year old from Oklahoma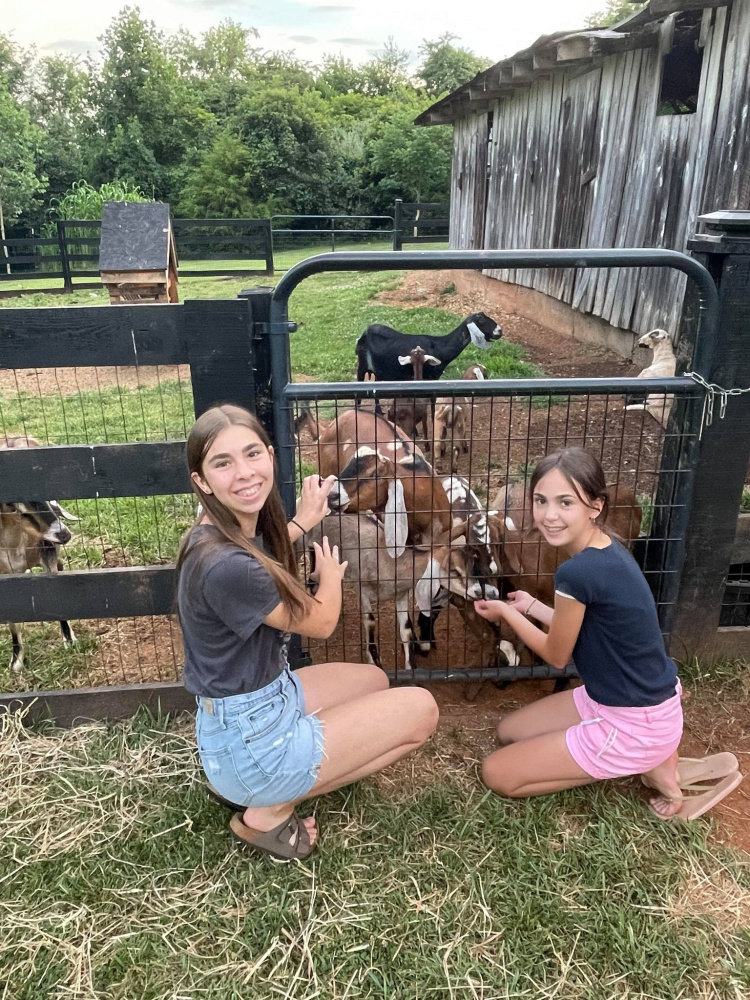 In between painting sessions Pribanic sisters enjoy real rural life at the Mayhurst Estate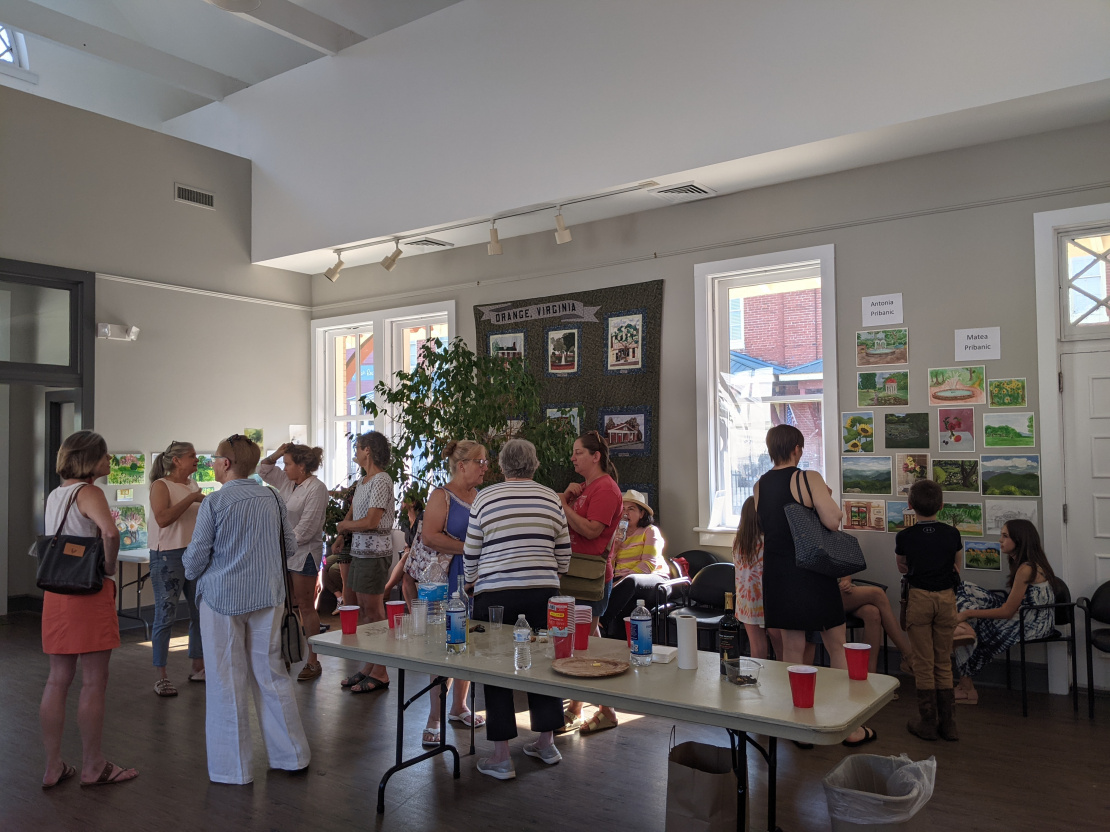 And finally the show and art sales at the historic Train Station in Orange. History made and lots of artwork is being purchased by Orange town folks.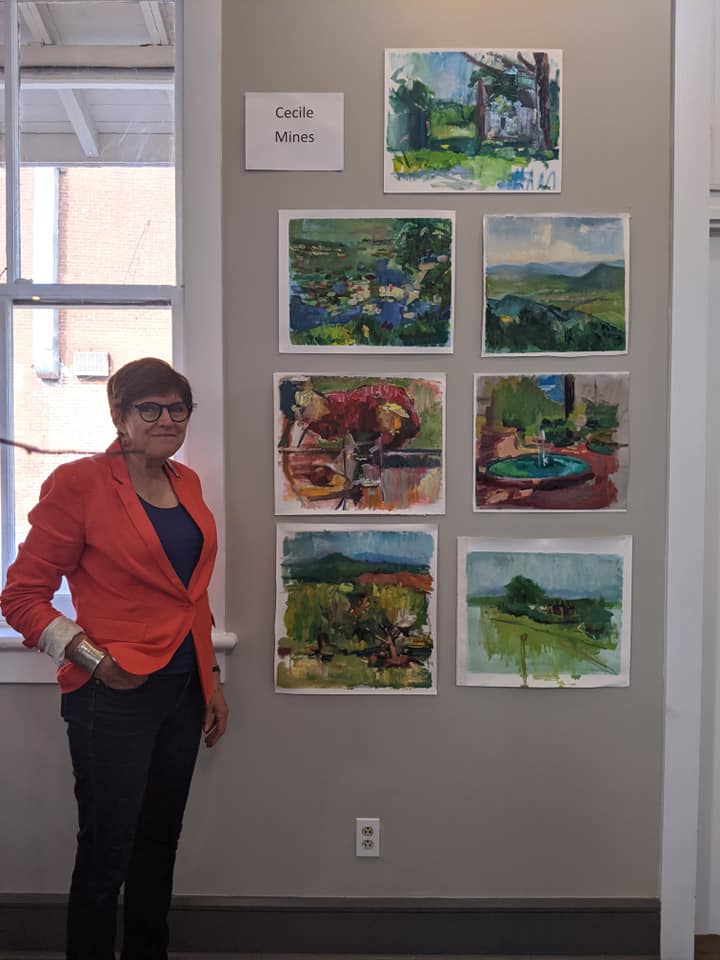 Cecile Mines attended two of our art camps and this is her wall at the final show
from her second one in July 2021.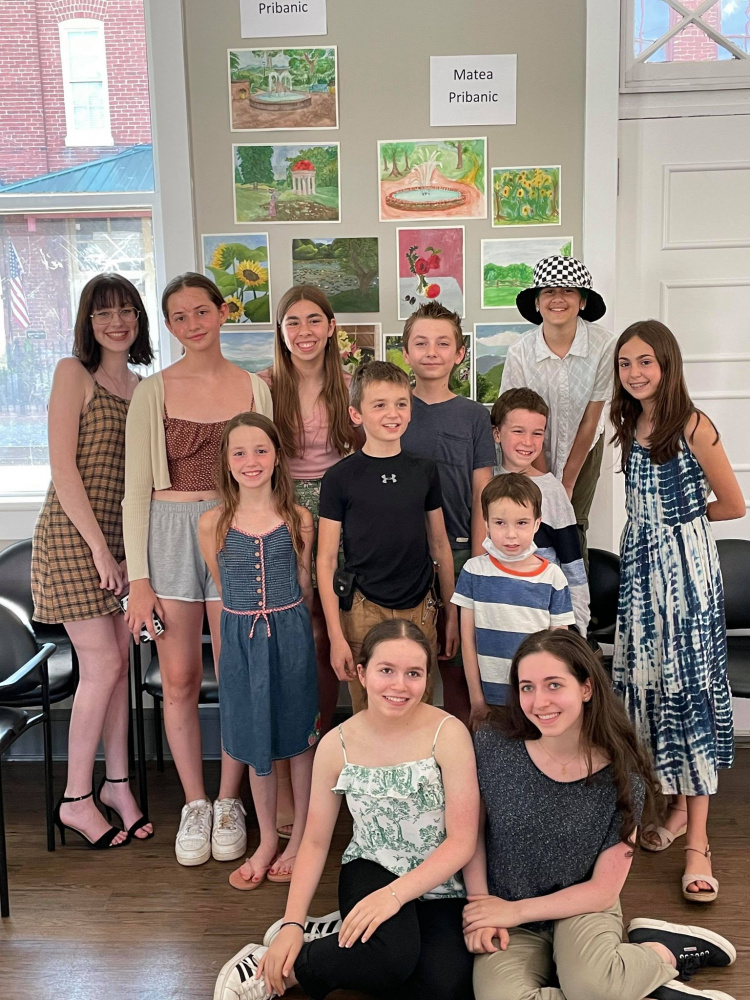 Lots of new friendships made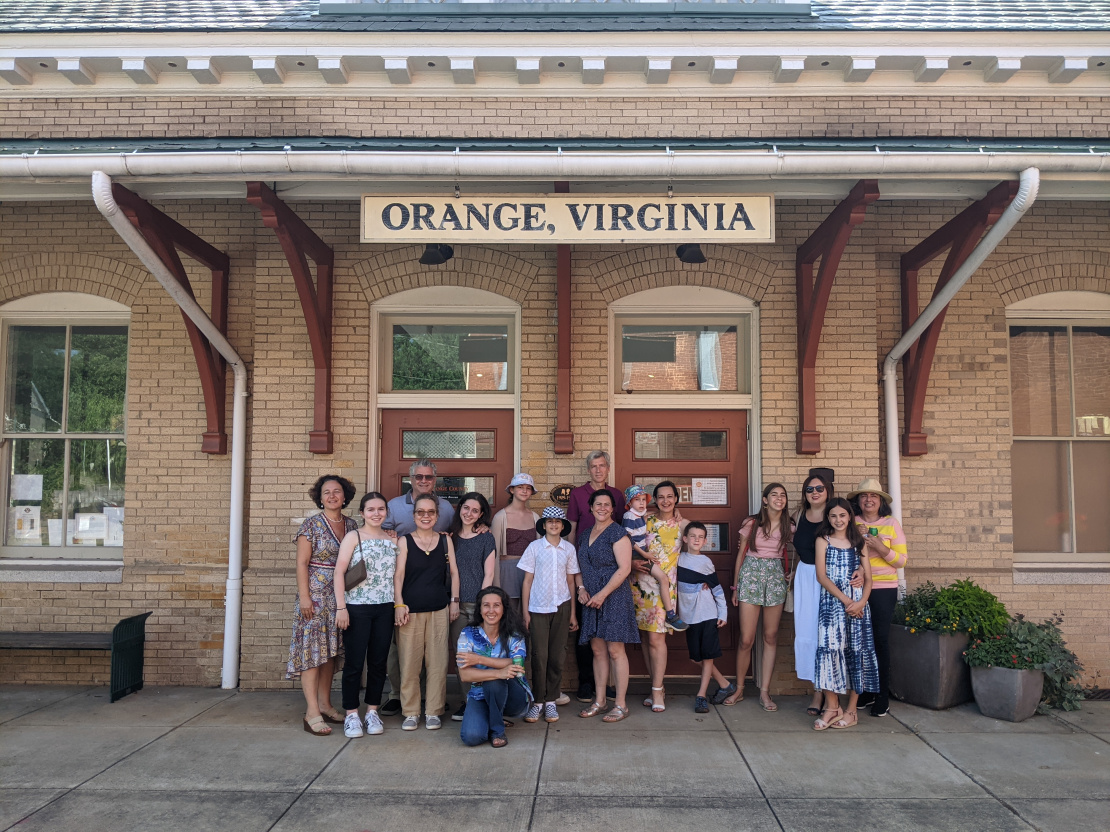 This is where it all happens, in Orange County, Virginia.